In a surprising move on Monday evening, Emmett Shear, the former CEO and co-founder of Twitch, was appointed as the interim CEO of OpenAI, one of the foremost AI research organisations in the world.
However, his recent elevation to the helm has stirred controversy, with a history of questionable tweets resurfacing and casting doubt on his suitability for the role.
Shear, a well-known figure in Silicon Valley, took over from Sam Altman, who was dismissed by the board amid a loss of confidence in his leadership.
The sudden change in leadership has prompted industry insiders to question the vetting process that led to Shear's appointment.
The controversy surrounds a series of tweets, dating back just a few months, that have raised eyebrows and concerns about Shear's judgment.
While the exact content of the tweets remains undisclosed, their nature has led to uncertainty about how these past actions might affect his responsibilities at OpenAI.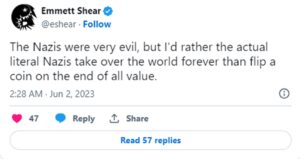 OpenAI, renowned for its groundbreaking generative AI chatbot, ChatGPT, is at a critical juncture, gaining global attention for its achievements.
Shear's ability to lead the organisation, especially in the wake of Altman's departure, is now under intense scrutiny.
Despite the controversy, Shear has not publicly addressed the concerns surrounding his past tweets since assuming his role as CEO.
The decision by the board to appoint him as interim CEO without apparent consideration of his social media history has become a topic of discussion within the tech community.
As OpenAI navigates through this pivotal moment, questions about Shear's judgment and his capacity to guide the influential AI developer responsibly loom large.
The unfolding situation raises broader discussions about the role of social media scrutiny in executive appointments and the challenges faced by tech leaders in maintaining public trust while steering powerful AI technologies into the future.