GUWAHATI: Amidst controversy surrounding the Rising Sun Water Fest 2023, held at the Ramsar site Deepor Beel, the government has said that it's mulling over simplifying rules for events at the site.
At the festival's closing ceremony on Monday, Environment and Forest Minister Chandra Mohan Patowary defended the government's commitment to enhancing tourism in the region.
Expressing intentions to streamline regulations and eliminate hurdles posed by environmental clearances, Patowary acknowledged objections from the Forest Department for certain events at the freshwater lake.
"We will work on how to make the rules easier so that more tourism potential can be realised. It will also be beneficial for Deepor Beel," he told the gathering.
Deepor Beel, situated approximately 10 km from the state capital, served as the venue for the four-day festival paying homage to the Battle of Saraighat in 1671.
ALSO READ Get ready to set sail: Guwahati's Rising Sun Water Fest returns on November 17
Jointly organised by the Assam government and the Indian Army, the event featured sailing and rowing competitions with participation from renowned sailing clubs across the country.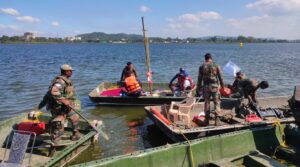 Critics, including the Deepor Beel Protection Forum, a community dedicated to the lake's conservation, have voiced concerns about the festival's disruptive impact on the lake's delicate ecological balance.
They have argued that loud music, boat traffic, and large gatherings pose a serious threat to the lake's rich biodiversity, including migratory birds, aquatic plants, and animals.
The forum strongly opposed the festival, stating that it contradicts environmental protection principles. It highlighted the crucial need to maintain the lake's natural water flow for the survival of its diverse flora and fauna.
The festival's timing during the migration season of various bird species has also raised concerns about disturbance to their nesting grounds. The lack of sightings of migratory birds during the festival is considered evidence of the disruption caused by the event.
As the government considers easing rules, the clash between promoting tourism and preserving the ecological integrity of Deepor Beel intensifies, casting a spotlight on the delicate balance between cultural events and environmental conservation.