SHILLONG: Meghalaya Chief Minister Conrad K Sangma, on August 4, announced the government's commitment to providing full support to trained nurses seeking job opportunities abroad. Speaking at the overseas nursing job fair in Shillong, the Chief Minister highlighted the state's dedication to assisting nurses in securing employment beyond the state and the country.
Chief Minister Conrad Sangma stressed the importance of skill-based, multi-disciplinary education, with a focus on providing similar opportunities across various sectors. He emphasized that this approach, rooted in the humility of the tribal society, harnesses the advantages of Meghalaya's human resources.
The success of skill-based education was praised by the Chief Minister, noting that it has led to increased employability among the youth. "Reforming the social sectors is crucial for the government," he said.
Highlighting nursing's significance in the global market, Chief Minister Sangma mentioned India's expected contribution of over 40% of skilled labor for the next two to three decades. With over 11,000 registered members in the Meghalaya nursing council, the state is determined to skill its youth to meet the growing demand abroad.
The state government pledged to support selected candidates by contributing up to Rs. 50,000 per candidate for training expenses. The remaining expenses will be deducted from the candidates' salaries once they are employed.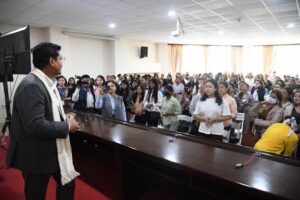 Chief Minister Sangma encouraged the nursing community to consider overseas placements, highlighting attractive salary ranges of 1.3 lakh to 2 lakh rupees, based on skill and experience. He also emphasized that approximately Rs. 80,000 to 1 lakh can be sent back to Meghalaya for their families, making overseas employment an enticing opportunity for the state's youth.
Organised in collaboration with Navis HR Pvt Ltd, Nursedge, The Trained Nurses Association India, and Ajith Enterprise, with support from the Meghalaya State Skill Development Society and the Department of Health and Family Welfare, Government of Meghalaya, the job fair saw companies from Japan, Singapore, Germany, the Middle East, and Australia present their opportunities.
Minister of Health and Family Welfare, M Ampareen Lyngdoh, also present during the occasion, urged aspiring nurses to sharpen their skills not only in their profession but also in technologies used in different countries and learn their languages. She further stressed the importance of HR agencies ensuring the safety of nurses in the countries of their employment.
A separate Overseas Nursing Job fair will be held in Tura to cater to aspiring nurses from Garo Hills, where approximately 150 nurses were also present during the event.