DAPORIJO: In a bid to foster stronger ties between civilians and troops deployed in the forward areas of Arunachal Pradesh and to ignite a spirit of patriotism among the youth, the Indian Army's Spear Corps Warriors organised an event on August 1.
Titled "Know Your Army", the event commenced with a musical performance by the Military Band that captivated the audience with their melodious tunes and impeccable marching discipline. The locals were left in awe of the band's skill and musical prowess.
In the "Weapon & Equipment" display corner, attendees had the opportunity to get up close with a slew of arms and ammunitions used by the Indian Army that included rifles, machine guns, mortars, and various optical and communication devices. Experts were on hand to explain the functioning of each item in simple terms, including demonstrations of Thermal Imaging and the powerful magnification capabilities of Surveillance Devices.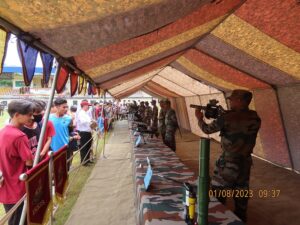 The highlight of the event was the "Join Indian Army" corner, which drew immense appreciation from youth, students, and teachers alike. Comprehensive information about the different avenues to join the Army, as officers and soldiers, was provided, with a special focus on the Agnipath Scheme.
A heartwarming and inspiring movie showcased the adventure and passion of life in the Army, with a particularly exhilarating segment featuring local girl Ipupu Mena, evoking pride and excitement.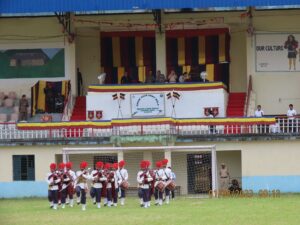 The "Know Your Army" event witnessed a remarkable turnout of over 450 attendees. The enthusiasm among the locals was palpable, and the event served as a potent catalyst, igniting a sense of duty and honour among the youth to consider serving the nation by joining the esteemed Indian Army.
Notable dignitaries, including the Superintendent of Police, Upper Subansiri, and officials of the civil administration, including the Additional Assistant Commissioner, District Medical Officer, and District Information Technology Officer, graced the occasion, adding to the event's significance.